SEO Reporting
Our advanced SEO reporting integrates data from multiple sources, including SEMRUSH, AWR, Google Trends, Google Search Console and clients Keyword Research documents. Our SEO reporting allows clients to identify trends and prioritise keywords globally in order to maximise return on investment, alongside reporting on the performance of SEO efforts.
To get started with SEO reporting, please follow the steps below.
Google Search Console
We require access to Google Search Console to advance our SEO reporting. To set up the Google Search Console integration, please go to the Account Configuration section within the Cubed platform and create an API connection.

Handling SEO Keywords
To upload your keyword document, including your keywords, markets, categorisations and mapped pages, please visit our SEO Keyword Importer via Account Configuration within the Cubed platform. It is important to use the defined CSV structure to upload your keywords. A Goal must be selected to enable Cubed to model sales and revenue. We also require an Industry to be selected. Please choose the most relevant industry for your keywords, as the industry will be used to model the SERP click-through rates for different ranks.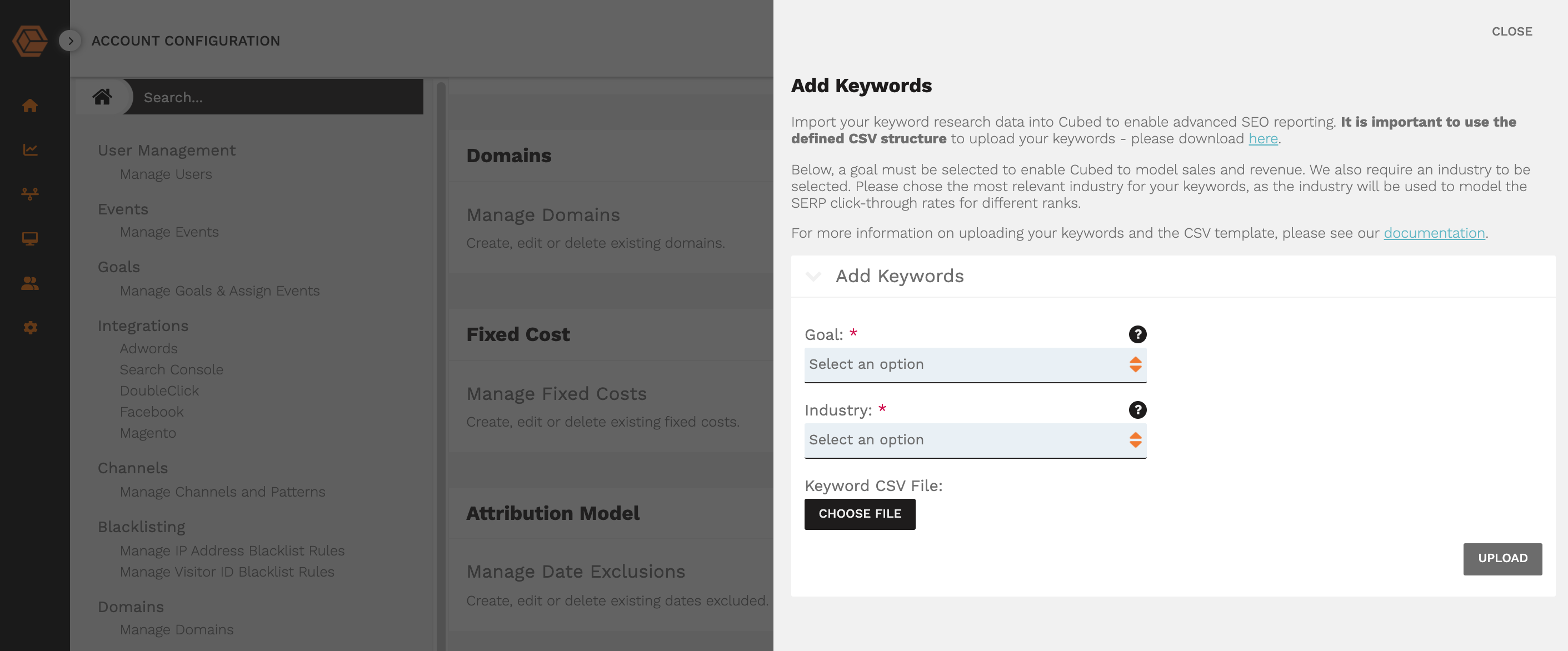 The Keyword Importer CSV template consists of many fields. The Keyword, Market and Active fields are the only mandatory fields, but we would encourage clients to also use Parent_Category, Child_Category, Sub_Category and Mapped Page to enhance reporting and categorisation of keywords.
| Field | Description |
| --- | --- |
| Market | Market is a two letter (alpha2) country code, for example GB, FR, DE or ES. We have over 200 country codes within our Cubed system. Please find an extensive list of our markets and country codes here. |
| Translation | A translation of your uploaded keyword.* |
| Product | The primary product which is targeted by the keyword being uploaded.* |
| Business_Size | The size of business being targeted by your uploaded keyword.* |
| Industry | The nature of the industry of your uploaded keyword.* |
| Parent_Category | The first categorisation of your uploaded keyword. |
| Child_Category | The second categorisation of your uploaded keyword. |
| Sub_Category | The third categorisation of your uploaded keyword. |
| Keyword_Modifer | Additional keyword classification information which ties your uploaded keyword to a mapped page.* |
| Locale | The targeted locale of your uploaded keyword.* |
| Brand | The internal brand, which is represented by your uploaded keyword.* |
| Content_Type | The type of content, such as Resarch or Conversion of your uploaded keyword.* |
| Mapped_Page | URL the keyword is mapped to. |
| Active | Active state of keyword (0 or 1). To remove a keyword, please set to 0. |
*optional additional categorisation - please leave blank if not applicable.
Removing Keywords
To remove keywords from the Cubed platform please use the SEO Keyword Uploader in Account Configuration and the CSV template, setting the Active column to 0. The Keyword, Market and Active columns are mandatory for removal of keywords. Once keywords are removed, we will stop pulling data from external data sources and keywords will no longer feed into our Cubed platform reports.
Summary
Once the Google Search Console integration has been set up, and keywords have been imported, we push the keywords up to our AWR, SEMRUSH and Google Trends accounts. This allows us to pull ongoing keyword metrics into our systems, including monthly search volumes and trends and weekly rankings and competition scores. These metrics will start to feed into our many SEO reports within the Cubed Platform over the coming days, including our SEO Keyword Prioritisation Tool, Search Trends Report and Rank and Marketshare Report.